First Visit
The American Academy of Pediatric Dentistry recommends your child should see a pediatric dentist around the time of his or her first birthday.
During your child's first visit, we will evaluate the development of your child's mouth, review how to care for these new teeth, and help stop or prevent any harmful habits. Providing education and teaching prevention can lead to a lifetime of great dental health.
Our goal is to make this first visit enjoyable for both the child and the parent. Our staff is trained to treat children of all ages and will work to make everyone comfortable. If your child should have decay or other issues needing treatment, this would typically be scheduled at a follow up appointment.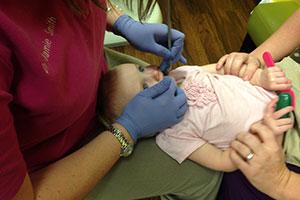 Fluoride
A topical fluoride treatment will be recommended at each infant visit to help prevent cavities. This is a mineral to help strengthen enamel and has been proven to significantly reduce cavity rates. We will use a small brush to apply the fluoride on the teeth. It dries very quickly and will stay on the teeth for several hours. We do ask that you not brush the teeth until bedtime. We much prefer the prevention of cavities then the treatment of them, especially with our littlest patients!
Cleanings
We provide infant exams every 6 months starting at the age of 1 until the age of 3 as needed. We will provide a short oral exam while they lay down in your lap. Cleanings at this age are usually very limited and most of this appointment is spent speaking with the caregiver. Once a child is 3 years old, we then recommend routine cleanings every 6 months.